I WAS going to write a followup today on "Fun Feminism," since I didn't really get a chance to finish exploring the assumptions about monogamy and sexual self-control I brought up in the original post, but after yesterday's exciting and informative trip to the MVA* I couldn't resist blogging about this instead!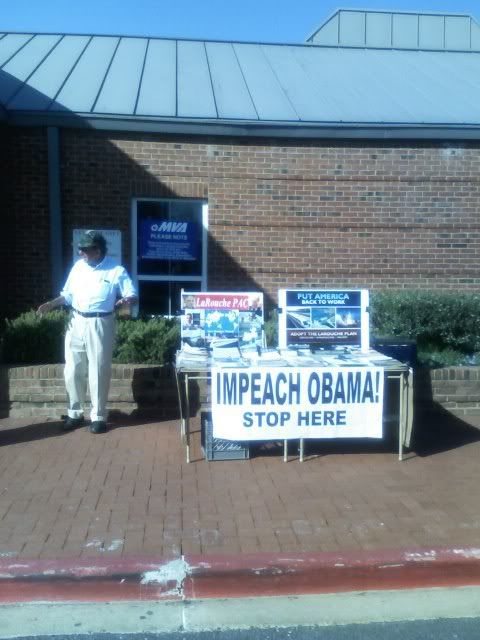 What the heck is that, you might ask? (And more pertinently, what is it doing on state property..? I shot them an email this morning asking that exact question–if I get an answer, I'll definitely share it.) So I decided to take a closer look:
Notice the awesome "Obama as Hitler" headshot on the far left!…so at this point I'm thinking "Teabaggers…I mean TeaPARTIERS**…oh sigh" but then I started to really look at the rest of the pictures…is that Franklin Roosevelt there perched on top of Obamahitler's head..? And whattheheck is that map of the world with "New Bretton Woods" inked across it..? And–
While I was staring bemusedly at the table, one of the two guys manning it approached me. "We're ready to kick Obama out of office!" he said enthusiastically. "How about you?"
"Er," I said. "Um, so, who are you guys..?"
"We're supporters of Lyndon LaRouche. We just got a representative elected in Texas…! Did you know that Obama's conspiring to shut down NASA?" he demanded.
"Um, no–"
He didn't object to me taking pictures, he said, but didn't let me escape til I agreed to take the handouts he pressed upon me and give serious consideration to the merits of Lyndon LaRouche (I didn't have the nerve to tell him I'd never heard of Lyndon LaRouche before in my whole life; dude was pretty wild-eyed at that point).
So who is Lyndon LaRouche? According to Wikipedia:
Lyndon Hermyle LaRouche, Jr. (pronounced /ləˈruːʃ/; born September 8, 1922) is an American self-styled economist, political activist, and the founder of several political organizations known collectively as the LaRouche movement. He has been a perennial candidate for President of the United States, having run in eight elections since 1976, once as a U.S. Labor Party candidate and seven times as a candidate for the Democratic Party nomination. He is the founder and contributing editor of the Executive Intelligence Review, and has written prolifically on economic, scientific, and political topics, as well as on history, philosophy, and psychoanalysis.
Okay…
He was sentenced to 15 years' imprisonment in 1988 for conspiracy to commit mail fraud and tax code violations, but continued his political activities from behind bars until his release in 1994 on parole. His defenders believe the prosecution was a politically motivated conspiracy involving government officials and a mass-media brainwashing campaign.[1] His appellate attorney, Ramsey Clark, a former U.S. Attorney General, argued that the case represented an unprecedented abuse of power by the U.S. government in an effort to destroy the LaRouche movement.[2]

LaRouche provokes sharply contrasting views. His supporters see him as a political leader in the tradition of Roosevelt and Martin Luther King, Jr., and a brilliant thinker who has been unfairly persecuted, while critics regard him as a cult leader, a conspiracy theorist, a fascist, and an anti-Semite.[3] Norman Bailey, formerly with the National Security Council, described LaRouche's staff in 1984 as one of the best private intelligence services in the world, while the Heritage Foundation has said that he leads "what may well be one of the strangest political groups in American history."[4]
Indeed! So what would a LaRouche presidency strive to bring us..?
#colonization of the planet Mars by 2025
#the screening and quarantine of AIDS patients
#low interest rates and opposition to the Gramm-Rudman balanced-budget law
#opposition to environmentalism, health maintenance organizations, outcome-based education, gay rights, abortion, and the nuclear disarmament movement
#opposition to the legalization of recreational drugs
# opposition to the idea of man-made global warming–LaRouche proposes that cosmic ray radiation, including that from the Crab Nebula, "determines much of the climate on Earth".
# opposition to the 1991 Gulf War and the 2003 invasion of Iraq.
# opposition to deregulation. According to EIR, "LaRouche has consistently called for reregulation of utilities, transportation, health care (under the "Hill-Burton" standard), the financial (especially the speculative markets) and other sectors, and a return to traditional American-System practices, set aside over the past 40 years."
# opposition to the United Nations and any other international organization
# proposal of the "Homeowners and Banks Protection Act of 2007," which would freeze mortgage rates, ban foreclosures and put the banking system through a bankruptcy reorganization.
Wowie! …hey, at least it explains both the NASA remark and the picture of FDR proudly adorning the top of their table. Definitely NOT Republican, in spite of the hatin' on gay people and abortion and global warming! …you learn something new every day, you know…
*That's "Motor Vehicle Administration," for those of you living in states that use the more traditional "DMV" appelation (Department of Motor Vehicles).
**For those of you who are under the impression that the "Tea" Party isn't just a particularly fussy faction of the "Republican" Party but is actually an independent political party, I don't know how else to put this to you…you're wrong.