I don't understand it. Part of me doesn't want to understand it, either; as with exploring the motives of pedophiles, it leaves me queasy and shaken in any kind of belief in the basic goodness of mankind. However, I should understand it in order to better combat it…I suppose…meh…it's really hard to work up enthusiasm for plunging your hands into untreated sewage, you know?
Two news items today: One is Sarah Palin's admittedly very funny Twitter debacle, where she confuses "not knowing what existing words mean" with "inventing new words." Is she too stupid to be embarrassed? But aside from the vocabulary funzies, this was the sentiment:
Peace-seeking Muslims, pls understand, Ground Zero mosque is UNNECESSARY provocation; it stabs hearts. Pls reject it in interest of healing.
I feel unprovoked and unstabbed. Really. Now, the case could be made that I am not a New Yorker and therefore, perhaps, am missing some special degree of angst that would make this all explicable; however, Sarah Palin's not one either. And in my case, I was actually within some geographical proximity of 9/11 events. Anybody remember this..?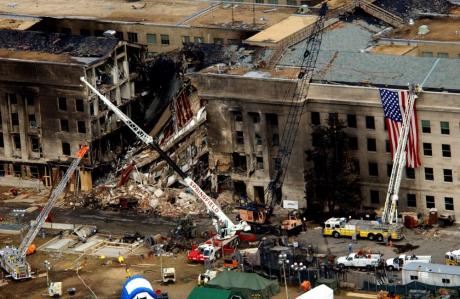 (The US Pentagon, 9/11)
…or this?

(Near miss of the US Capitol–in rural Pennsylvania about 20 minutes from DC)
There are lots of terrorists out there. I remember learning in the 5th grade that while all squares are rectangles, not all rectangles are squares. And in this case, it can't even be claimed that well yes I'm sure not all Muslims are terrorists but all terrorists ARE Muslim, you know..! Neither Ted Kaczynski nor Timothy McVeigh were Muslims, for example. Since 1977, 41 abortion clinics have been bombed–forty-one!–and to the best of my knowledge, none of the bombers were even remotely Muslim. Among these were an abortion clinic and two physicians' offices in Pensacola, Florida were bombed in the early morning of Christmas Day, 1984, by a quartet of young people (Matt Goldsby, Jimmy Simmons, Kathy Simmons, Kaye Wiggins) who later called the bombings "a gift to Jesus on his birthday."
I've also heard the argument that the Koran encourages Muslims to kill unbelievers. Gee, now there's a point. I mean, just listen to these!
Suppose you hear in one of the towns that God is giving you that some worthless rabble among you have led their fellow citizens astray by encouraging them to worship foreign gods. In such cases, you must examine the facts carefully. If you find it is true and can prove that such a detestable act has occurred among you, you must attack that town and completely destroy all its inhabitants, as well as all the livestock.

If your own full brother, or your son or daughter, or your beloved wife, or you intimate friend, entices you secretly to serve other gods, whom you and your fathers have not known, gods of any other nations, near at hand or far away, from one end of the earth to the other: do not yield to him or listen to him, nor look with pity upon him, to spare or shield him, but kill him.

Whoever sacrifices to any god, except the Lord alone, shall be doomed.

They entered into a covenant to seek the God of their fathers, with all their heart and soul; and everyone who would not seek the Lord their God was to be put to death, whether small or great, whether man or woman.
Oops, wait!…those are from the Bible.
This, and the ongoing furor over illegal immigrants, has really led me down a depressing path. "Several states" (reported variously as nine, ten or twelve depending on where I'm looking) are supposedly following Arizona's lead in obsessing about their undocumented worker populations. Why the obsession..? I've heard it variously and defensively described as "Well they're breaking the LAW don't you CARE about the LAW?" (frequently put forth by people who regularly speed, jaywalk, cheat on their taxes and smoke weed–a rather selective reverence towards the LAW)
or
"Well they're costing us MONEY WELFARE!" (Nevermind the fact that in 2008, the percentage of Arizona's state budget going towards welfare was 12%…not exactly the lion's share…and presumably even that isn't somehow all being distributed to illegal aliens–how could it be?)
or
"Well they're taking all our JOBS!" (FactCheck.org doesn't agree.)
I'm pretty sure it all really boils down to one thing, and for that one thing, see the title of this post.