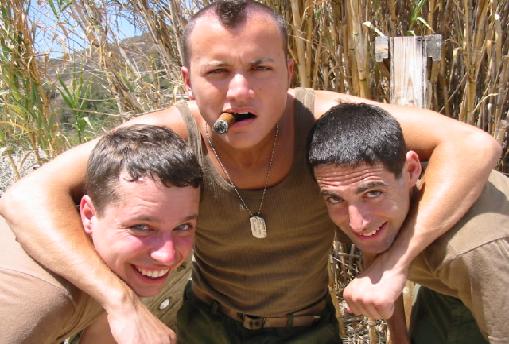 I had seen this post by Melissa MacEwan of Shakeville before Hugo wrote about it, but I hadn't been aware of her follow-up post til he linked to it. Basically, her emphasis in her follow-up post and Hugo's primary message in his own were the same–in their own words:
Melissa: Feminist men who do the right thing often do it quietly, while misogynist men spew their rubbish at incredible volumes…If, my esteemed male feminist allies, you don't want to be part of the problem, these fights have got to be your province, too. Giving yourselves the permission to not get publicly involved, or to get publicly involved only when it's convenient and not all that risky and not all that hard, is the ultimate expression of privilege.
Hugo: I was able to assent intellectually to the principles of feminism long before I was courageous enough to espouse them in potentially hostile settings. I had to take baby steps. Identifying as a feminist in a women's studies class came before identifying as a feminist in an all-male environment. But I felt a sense of urgency; it is male privilege that allows feminist men to pick and choose to join battles into which women are regularly drafted against their will. If we're serious about our feminism, we can't just be allies when it's safe or convenient, we can't merely offer soothing reassurance in private to the women in our lives. We've got to do it as publicly as possible, remembering that our primary usefulness to the egalitarian cause lies in our willingness to model publicly a different way of living as brothers, fathers, sons, husbands, lovers, bosses, students, roommates, coworkers and friends.
(emphasis on convenient mine)
Certainly this is something I've thought about before–even written about, rather passionately–grounded as it is in the unavoidable knowledge that women will never achieve true equality if we can't get more than 50% of the human race on board with that as a basic societal truth. But seeing Hugo write about it made me pause for a second, because Hugo is, after all, a man…who apparently doesn't entirely know what he's talking about. Not when it comes to being a man representing feminism, or even anything remotely like feminism, in an all-male environment…a hostile setting.
I used to be pretty close to someone, a man, who had spent nearly 20 years in the military by the time I knew him. When he was 19 years old, he was stationed in Korea. Now, nobody in the Army brought his family over to Korea then; the Army wouldn't pay for it and there was no real housing available there for family, schools for the kids, etc. Few Army women were sent to Korea, as nearly all the military specialties over there were either combat arms (outright banned to women) or very closely combat arms-related, in which there weren't too many women serving to begin with. In short, it was essentially an "all-male environment"–not just for a few hours a day every few days or so, but 24 hours a day, seven days a week. And as anyone who has either been stationed there himself or has been very close to someone who has been stationed there knows, the standard operating procedure was for all the guys to go out together at night, get hammered, and patronize prostitutes.
Now, my friend was not particularly feminist–certainly not at age 19. But he didn't want to patronize prostitutes. He'd only had sex a few times in his life period prior to being stationed in Korea; he was, he told me, frightened and repelled by the idea of doing it with a prostitute, just like that. His stint in Korea was only a month long–it was a training exercise–so, he said, he did manage to avoid having to do it–though both he and I doubted that he would have been able to continue to successfully refuse if he'd been stationed there for the standard 12-month Army rotation.
Because I don't think Hugo and Melissa really know what a hostile all-male setting really consists of, sometimes, especially to a five-foot-nine inch, 140 pound, 19 year old boy. Like this*:
A Youth Radio investigation has found that between 2004 and 2006, sailors in the U.S. Navy's Bahrain Military Working Dogs Division, or "The Kennel," were subjected to an atmosphere of sexual harassment, psychological humiliation, and physical assaults.

It was inside that Bahrain kennel in July 2005 that Petty Officer Joseph Christopher Rocha, then 19 years old, says he was being terrorized by other members of his own division. "I was hog-tied to a chair, rolled around the base, left in a dog kennel that had feces spread in it."

Rocha says that beginning six weeks into his deployment, he was singled out for abuse by his chief master-at-arms, Michael Toussaint, and others on the base, once Rocha made it clear he was not interested in prostitutes. "I was in a very small testosterone-driven unit of men," Rocha says. "I think that's what began the questioning-you know-'Why don't you want to have sex with her? Are you a faggot?'"

Youth Radio has conducted interviews and obtained documents released under the Freedom of Information Act (FOIA) showing that the hog-tying episode was not the first or only case of harassment and abuse during Rocha's deployment. In another incident cited in the documents, Rocha was forced to appear in a twisted "training video." A member of the Working Dogs Division, Petty Officer Shaun Hogan, recalls the scene.

"Petty Officer Rocha and another junior sailor…were instructed to go into a classroom by Chief Michael Toussaint, who orchestrated the entire training. And Chief Toussaint asked them to simulate homosexual sex on a couch," Hogan says.

Next in the simulation, Hogan says a handler and his dog barged onto the scene, and that's when "one person…would sit up, kind of wipe off their mouth, the other would get up, and they would be fixing their fly."

Rocha says Toussaint bullied him, "telling me I needed to be more believable, act more queer, have a higher pitched voice, make the sounds and gestures more realistic…I didn't think I had a choice…It made me feel that I wasn't a human being, that I was an animal, rather."

Youth Radio has obtained a copy of both Braden's investigation and the Navy's Findings of Fact, which detail what happened to Rocha, in addition to incidents involving other service members. The FOIA documents have been redacted, so names are blocked out, but the actions listed include: throwing hard balls at the groin, spraying down uniformed personnel with multiple hoses, and a dog attacking a sex worker on base to the point of hospitalization.

Youth Radio's investigation includes interviewing four members of the Bahrain Working Dogs Division who served between 2004 and 2006. All say the tone was set by Chief Toussaint. Some sailors participated in the culture of hazing as victims, others as perpetrators, or in some cases both.
When discussing his own Korea experience with my friend, I suggested that it might have been different if he'd been sent there as a sergeant in his 30′s rather than as a scared private of 19–he laughed and agreed: "Oh my God yeah…I wish I could go back there now…and this time they'd be like, 'What's wrong with you, man? Are you gay?' and I'd be like, 'That's right, not only am I gay…I am THE gay**!'" But that's now…as a mature adult man who has been to war and seen terrible things, who has the full growth and strength of a male in his physical prime, who has had enough sex of his own choosing to feel comfortable and confident in his own sexuality–and also, as a man with the authority of a senior noncommissioned officer's rank.
I was in the Army myself, at age 18, in a heavily male environment–I know exactly what that's like. There is no way in hell you could reasonably expect any of those boys to buck the system, and no, not just because they would be called names, or ostracized–they would be at serious risk of physical and sexual assault…just like I would have been if I'd ever made waves myself. And no feminist alive would have expected me to open my mouth and speak out under those circumstances. Male privilege doesn't exist anymore when everyone in the group is already male, does it..?
So Hugo's and Melissa's messages are important…but they are lacking context. Which would be the privilege of never having served in our glorious Armed Forces, I would imagine. If you really want to advance the cause of feminism, first you're going to push to make those spaces safe for the young men inhabiting them. That must come first, or you will never accomplish anything real and lasting in terms of encouraging young men to speak up for gender equality. And for God's sake don't trivialize a situation you can't or won't understand by calling it inconvenient…haven't we had enough of that from the anti-choicers?
**He's heterosexual, I should mention–you get his point, though.