…my historically favorite costumed superheroines. Well, sometimes supervillainesses; most of 'em are ambiguous…or worse…at times.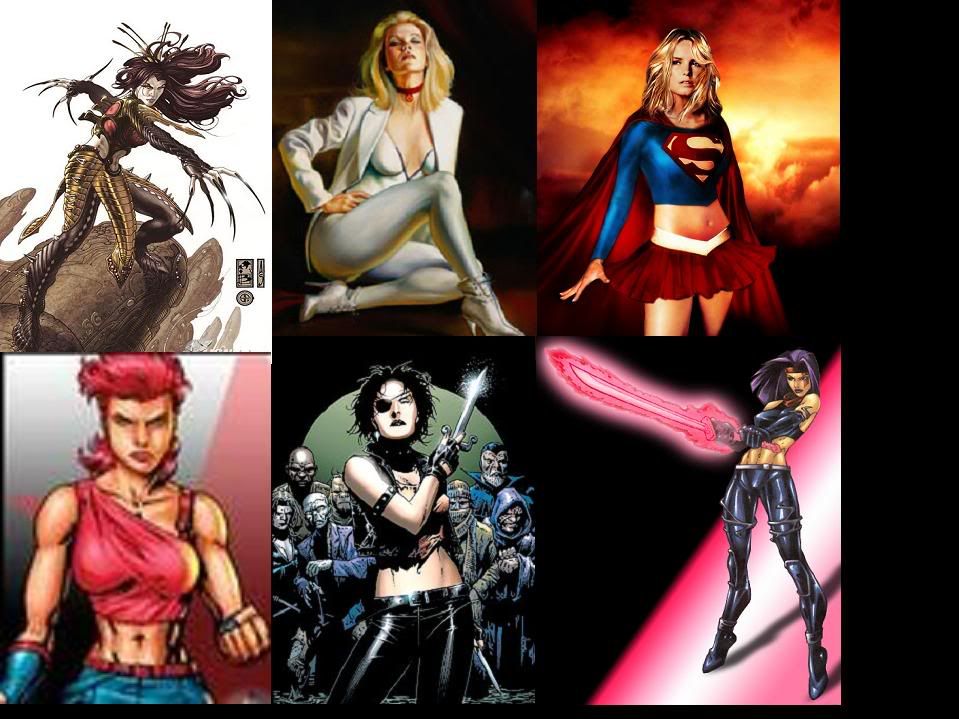 Clockwise from top left: Lady Deathstrike, Emma Frost, Supergirl, Psylocke, Callisto, and Zarana.
Updated to add, thanks to Ginger's reminder: My very first heroine, of the sword-and-sorcery variety (I was eight! Thanks, Dad).
Additional note: Anybody who enjoyed the original Red Sonja character as conceived by Robert E. Howard should read his two novellas about Agnes de Chastillon, who is about 1000x awesomer than Red Sonja. However, read only the two Howard stories, "Sword Woman" and "Blades for France." Do NOT read the story some other dude wrote about her. It's incredibly stupid. One wouldn't normally think of Howard as a feminist writer, especially given the time frame in which he wrote–Howard died in the mid-1930′s–but from a review of this work:
In the introduction to the original Zebra paperback of The Sword Woman (there was later a Pocketbooks edition), the late Leigh Bracket — one of the handful of women who achieved great success as pulp adventure writers — pointed out that the title story holds one of the most eloquent statements written on the subject of women's freedom and individual pride. In this scene, a captain of mercenaries has turned down Agnes' offer to ride with him as a soldier. He says, "Don thy petticoats as becomes a proper woman. Then, well — in your place I might be glad to have you ride with me!"

Livid, Agnes threatens him, saying:

"Ever the man in men! Let a woman know her proper place: let her milk and spin and sew and bear children, not look beyond her threshold or the command of her lord and master! Bah! I spit on you! There is no man alive who can face me with weapons and live, and before I die, I'll prove it to the world. Women! Cows! Slaves! Whimpering, cringing serfs, crouching to blows, revenging themselves by — taking their own lives, as my sister urged me to do. Ha! You deny me a place among men? By God, I'll live as I please and die as God wills, but if I'm not fit to be a man's comrade, at least I'll be no man's mistress. So go ye to hell … and may the devil tear your heart!"

Intense, pointed, true — Agnes has sworn herself to celibacy, aware that even to share a bed with a man, in her society…is to be bridled. Howard captures the essence of a politic few men dare realize — a concept usually dismissed by men as the madness of man-hating lesbians, or whoever else can be blamed for men's own limited comprehension. This aspect of Agnes' character is important to both of the stories Howard wrote, so one would guess it a concept Howard was consciously exploring.
I also have to recommend Howard's poetry; it's beautiful, and haunting.